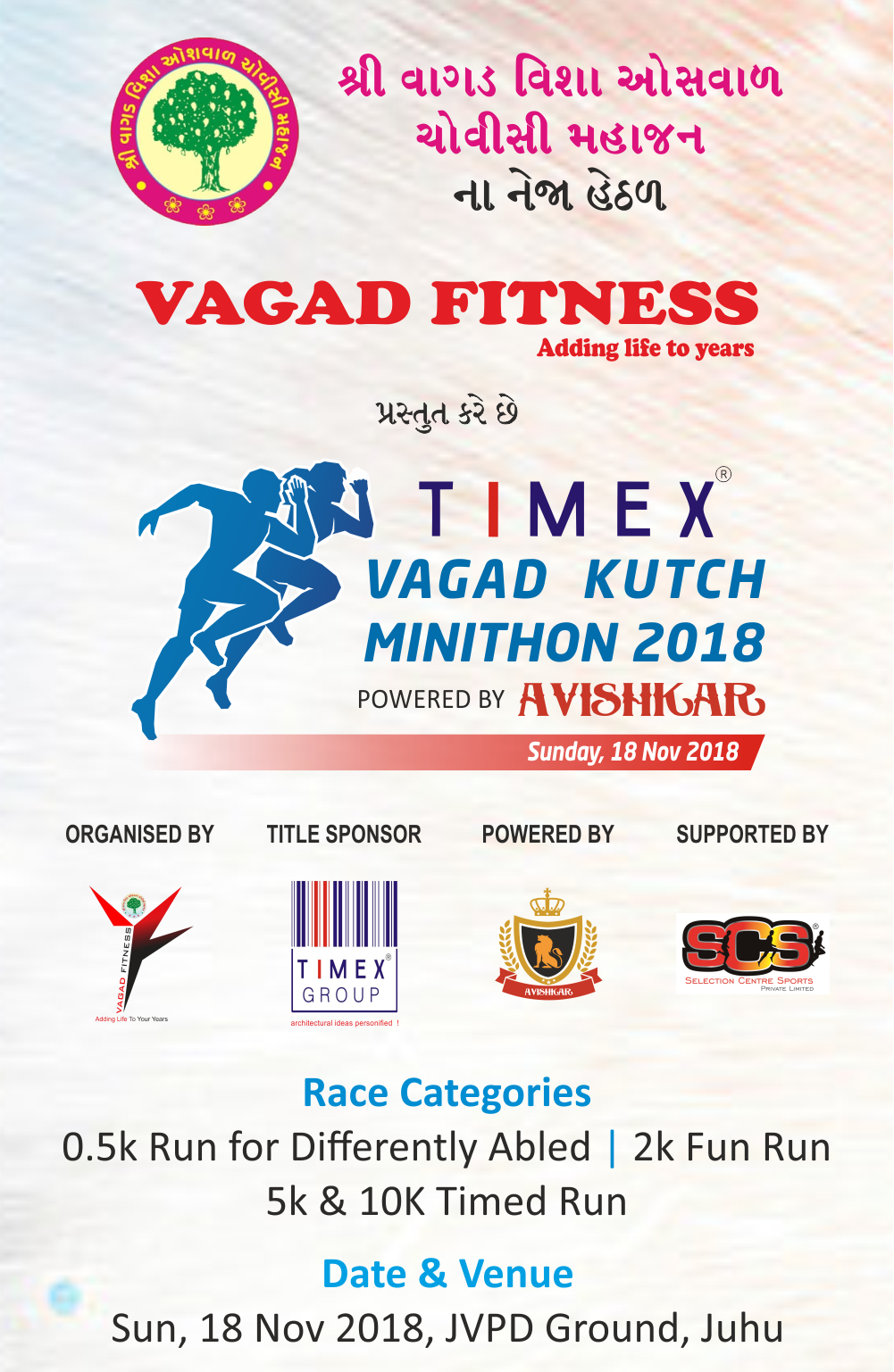 This Event Is Exclusively for VVO & KVO Community Citizens
By submitting the form, I hereby declare that I am physically fit to participate in this event and have attained all necessary physical examination by a registered medical practitioner. I acknowledge that participating in this event may carry some risk to my health. I release the organizers from any liability or any loss or injury which I may suffer while participating in the race. I have read and understood all the "RULES & REGULATIONS" and the information provided by me is correct as per my knowledge. Further, I grant full permission to the organizer and all associated organizations to useall event material including but not limited tophotographs and videotape for publicity and advertising purposes without any compensation. In case of minor's registration (below 18 years of age), it is understood by the organizerthat form is filled after consent and under the supervision of minor's parents/guardian.
Participation is allowed for entire VVO and KVO Jain Community across the globe.
Timings will be recorded through Electronic method for 5km and 10km. Timing chip will be given to each participant in these categories
Fee applicable: 2km Run – Rs.300, 5km – Rs.400, 10km – Rs.500. No fees applicable in Differently abled Category.
Maximum participants allowed: 3000 comprising Differently Abled Run, Dream Run & 2km and 3000 comprising 5km & 10km.
Registrations will close on 31 July 2018 at 11:59 PM or when the maximum limit of Running Places are filled in,whichever is earlier.
A participant can take part in one eligible category only.
Participant must upload copy of his ID proof for age verification. Age group will be selected automatically based on Date of Birth.
On Successful registration, participant will get a confirmation email and SMS on the email id and Mobile Number provided during registration.
Details regarding distribution of Race BIB and goodie bag will be communicated to all participants via SMS later. All details regarding the same will be updated on www.vagadfitness.com
Every participant will have to collect the Race BIB and goodie bag from the BIB Distribution Centre only and within the defined period. No Change will be entertained.
T-shirt will be given to each participant in all distance category. Participant must select size during registration. No request for changes in size will be entertained.
Mandatory documents for collecting the BIB:

Online / Offline – SMS received after successful registration / Print out of Confirmation Email
Authority Letter for collecting the BIB of any other participant is required.

The BIB allotted to the participant is non-transferable and cancellation refund will not be entertained.
The BIB properly pinned at 4 corners on the front of your T-shirt is compulsory, without which a participant will not be allowed to take part in the event.
Finishers Medal will be given to each participant in distance category of 5km, 10km and 21km after finishing the race. It iscompulsory to show BIB for collecting the finisher Medal.
Snacks will be given to each registered participant after finishing the race. It is compulsory to show BIB for collecting snacks.
Prizes will be given to top 3 participants in each participation category.
TIMING CERTIFICATE can be downloaded on 21-Nov-2018 onwards, from our website: www.vagadfitness.com
Final Results will be uploaded by 05:00 p.m. on the next day of the event on www.vagadfitness.com
The decision of the JURY will be final and binding. The event organizer reserves the right to modify the Date, Venue, Distance,Race Start time and any other changes related to this event at any given point of time.
Recheck entered details before submission. Any changes after submission will not be accepted.
(By submitting form, I accept all rules & regulations and declaration mentioned above)